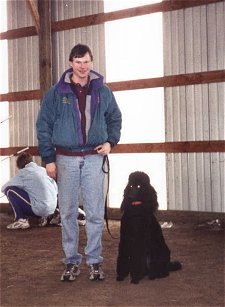 Terry Smorch is a nationally recognized trainer and competitor with several AKC Agility National titles. The Sunshine Obedience School in Council, Bluffs Iowa, hosted this seminar. Additional photographs taken during the seminar weekend can be viewed here!!

(Terry Smorch with the star seminar pupil; a Black Standard Poodle!!)

The seminar was divided into two sections; intermediate dogs worked in the morning and advanced dogs worked in the afternoon. Woola and I were in the intermediate morning group. Because of the warm weather this weekend the seminar was held in an indoor practice arena at the Sunshine Obedience School. This arena is a 100X60 foot building with a packed dirt floor. There were approximately twelve dogs and handlers in the intermediate group and twelve dogs and handlers in the advanced group. About six additional people audited the seminar.

Terry Smorch has a very nice relaxed approach to agility training. He stresses positive fun training sessions with your dog and always ending training practices on a positive note. I think it was evident over the weekend that Terry really has a natural connection with dogs. Several times over the weekend I heard participants expressing surprise that he was able to take a particular dog and work with that dog, or hold that dog, or even pick that dog up.

Every participant at the seminar was given individual attention. It was a humbling experience going out in front of the seminar group, in front of a nationally recognized trainer and competitor and running your dog (in my case a Novice dog) through a training exercise. After you attempted a course or completed one of the course sequences Terry would critique your performance. This was done in a positive manner; you and you dog are having problems with this sequence or obstacle; here's what you can try, here's what might help you as a handler communicate to your dog what you expect.

What I learned at the Seminar.
This stuck with me; Terry wouldn't let anybody use the word "NO" while training his or her dogs that weekend. I guess I use the "NO" word more than I thought and it's one of those things I never thought about but it really makes sense. Agility training needs to be a positive fun experience for your dog.
If your dog is doing a sequence wrong, or not completing an obstacle correctly (blowing a contact zone) there are several reasons why this is happening. Either the dog doesn't know the correct way this should be done, it hasn't been trained properly, or the handler is making mistakes and giving the dog wrong signals on the course (not communicating). If you want your dog to make a right turn and then go straight over the next three obstacles the handler needs to be in the correct position when your dog takes that jump and is making a 90 degree turn; the handler needs to have his shoulders squared straight ahead so the dog cues off your body language.
The value of front and rear crosses. We worked on this the first day of the seminar. Terry set-up a couple of practice courses that offered the opportunity to use front and rear crosses. I've been working on using rear crosses with Woola and now I'll have to work on front crosses.
At one point Terry asked me, "What do you want to accomplish with your dog in agility"? That was sort of a tough question. I guess to be honest I didn't have any long-term goals. Woola and I need one qualifying run in both NJWW and Standard to move up to Open. One sort of modest goal. This got me thinking about setting some longer term goals; I want to move up to Open, possibly move up to Excellent this year. Really work on the contacts and weave poles.... Terry really got me motivated and thinking in the long term.
Working the contacts. I think for the first time I saw and understood what I want Woola to do on the contacts. Drive up the A-Frame, drive down the A-Frame right to the bottom; establish that bottom position; two paws on, two paws off.
Weave poles. On Sunday Terry set-up a course with weave poles. The weave poles had guide wires attached to help the dog through. Woola had never seen guide wires on weave poles before with the expected result. With a little work we were able to get her through the weave poles. I'm not sure what to make of this training method. I think for now I'll continue to work on weave poles without using the guide wire method.
Final thoughts.
Woola had fun; I had fun and really learned a lot; basically how much I don't know. And my wife Eileen, who was very nice to join Woola and I for the weekend had a good time.
This was the first agility seminar I've attended with Woola. It was a very positive experience and I'll certainly look for other opportunities. The class size (twelve in the morning, twelve in the afternoon) was just about right. Terry Smorch put on a very good weekend of agility instruction. I wish I lived close to Terry so Woola and I could work with him on a regular basis. The seminar location at the Sunshine Obedience School worked out great. One thing that would have been helpful would have been if Terry were set-up with a microphone so everybody could have heard him talking to individuals throughout the day. At times he was at the far end of the building talking with a handler about their completed course run and most of the conversation was lost at the end of the building where we set-up chairs and kennels.